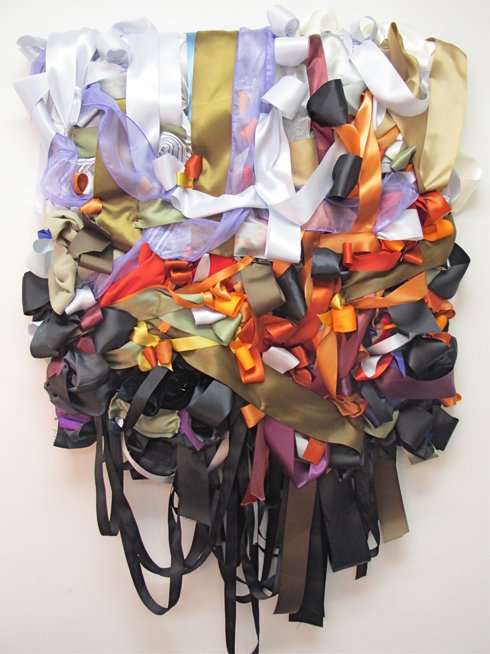 Vadis Turner is a Nashville native, now living and working in NYC. She maintains ties with Nashville though- following the severe floods of May 2010, Turner collaborated with other Nashville artists to create a picture book,
"Nashville Counts"
whose proceeds went to Hands on Nashville to support their volunteer efforts. Read more about it
HERE
.
Most recently, Turner's work has returned to Nashville with an exhibition of her work at
the Rymer Gallery
. I LOVE it. She works in various combinations of materials, but the Rymer exhibition focuses on her ribbon paintings. "Her work is well known for the exquisite and fragile balance between mixed media, color theory, abstract expressionism, and feminism. These themes are very dear to Vadis, whose main focus interest is women's work and gender roles.", says David Gargiulo in a
Vestal magazine
feature on the artist. Vadis
says of her work, "In my compositions, I like for there to be a tension between beauty and darkness." I think that is very evident in all her bodies of work.I can't wait to see what she does next!
"I keep my eyes and mind open to everything because all types of design and art are in constant conversation with each other." ~ Vadis Turner